The Digital Revolution in Education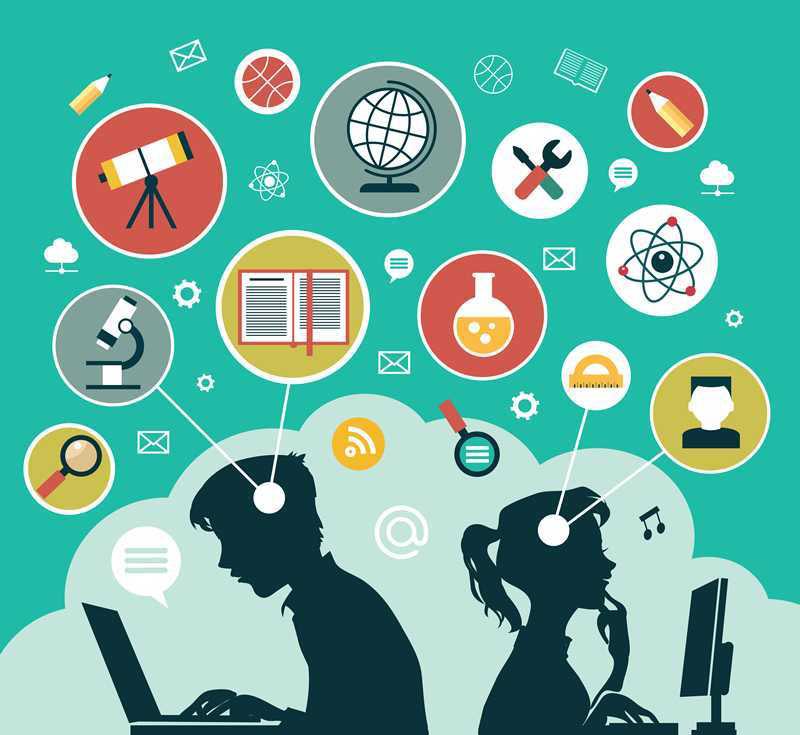 2020 was an unprecedented year for school education as much as it was for the rest of the world. If 2020 revolutionized the way technology is used in education, 2021 is only going to amplify it further. Let's deep dive into how technology is revolutionizing and shaping the future of education in India
The Covid-19 pandemic has battered education systems around the world, affecting close to 90 percent of the world's student population. In India, over 1.5 million schools closed down due to the pandemic, affecting 286 million children from pre-primary to secondary levels, and around 37.2 million undergraduate and postgraduate students enrolled in over 39,000 colleges across India.
To fight back the disruption and damage, educational institutes across the country embraced the digital mode of education as a solution to fill the void left by classroom teaching. With this, the hitherto peripheral digital education in India got centrestage and is now increasingly getting integrated into the mainstream.
"However, only few private schools could adopt online teaching methods and that too only after months of preparation, while many low-income private schools and government schools had completely shut down as they had no access to e-learning solutions. Students who did not have access to devices for e-learning dropped out of schools even if the school had managed to provide online classes," states Mona Bharadwaj, Global University Programs Leader, IBM India.
She however adds that over the last 6 months, there has been significant progress in the preparedness. "Many schools have put together digital material for teaching online in classes. They are well-versed with tools like Teams, Webex, and other collaboration software. They now conduct computer-based objective type tests or exams with auto-evaluation. Teachers are monitoring students over a video call to check for any malpractices," she explains.
While nothing can replace the need for physical classrooms and the face-to-face interactions with the teachers and classmates, technology is proving crucial in continuity of the education and learning during the pandemic and resulting restrictions.
Edtech rocks
While majority of the industries are focused around survival and recovery rather than growth, for Edtech segment, the opposite is true. As schools and universities shuttered in the face of a devastating public health crisis, remote learning and distance-learning initiatives experienced a dramatic spike in demand.
As online learning continues to gain prominence amidst the pandemic, India's Edtech segment is set to become a USD 30 billion industry in the next 10 years on the back of growing demand and strengthening business models, according to RBSA Advisor, a transaction advisory firm specialising in valuation, investment banking and transaction services. The firm estimates the current Edtech segment size between USD 2.75-3 billion.
In addition, the industry has seen significant rise in users over the last two years. According to a report from RedSeer Consulting and Omidyar Network, Edtech users – both paid and free unique users – in K-12 and post K-12 segment have seen an increase, with the user base doubling from 45 million to 90 million from 2019 to 2020. The report also noted a 40 percent increase in willingness to pay and a massive 83 percent jump in the paid user base.
"2021 has seen the emergence and rise of Edtech in India in Tier-2 and -3 cities as well. Smaller cities are now emerging as great destination for the Edtech players and account for a substantial online learning demand," highlights Bharadwaj.
Riding on the user growth, the industry has attracted private equity investments of USD 4 billion in the last five years, leading to the emergence of global Edtech leaders like Byju's which now commands a valuation of USD 15 billion. Edtech startup upGrad, promoted by Ronnie Screwvala, raised USD 120 million in funding from Singapore's sovereign fund Tamasek in April 2021. Lead School, another e-learning company, secured USD 30 million in the same period from Silicon Valley-based GSV Ventures.
Edtech startups like Unacademy, Byju's, Eruditus, Vedantu and Toppr among others have raised millions of dollars in funding, and Byju's blockbuster acquisition of unicorn Whitehat Jr is an indication that a post-pandemic world is likely to be one where online models of learning will continue to form a critical component of pedagogical practices. A June 2020 report from the Ministry of Human Resource Development estimated that expenditure of education technology would rise to a staggering USD 10 trillion over the next decade.
According to RBSA Advisor, online education offerings for classes 1 to 12 are projected to increase 6.3-times by 2022 from the base of 2019. The post K-12 market is expected to grow 3.7-times to touch USD 1.8 billion.
From test tutoring to gamified content, to niche skill development courses, the online education marketplace is now littered with an immense variety of digital learning products. With many studies testifying to the fact that knowledge retention via online learning is significantly greater than those seen in congested classrooms, more parents too, are coming around to the idea of remote learning.
This has resulted in higher than ever business growth for Edtech players. Byju's saw its enrolment jump by 25 percent to 50 million during the pandemic. Byju's success will see after-school coaching take a digital trend. In addition, upGrad has recently crossed the milestone of impacting over 1 million learners across 50+ countries. "Our course completion ratio stands at 80 percent, as compared to 3-6 percent for other MOOCs. Despite Covid-impacted conditions, we have enabled 1000 learners to get placed with organizations like Deloitte, Publicis Media, Airtel Payments Bank, NPCI, Flipkart, HDFC Life, Naukri.com, E&Y and Ola, in March 2021, with an average salary hike of 50 percent. We are well placed to achieve the USD 2 billion revenue goal by 2026," shares Arjun Mohan, CEO, India, upGrad.
Further, the advantages that online learning offers, such as customisable courses, personal learning formats, self-paced learning and easy-to-navigate interfaces, suggest that the footprint of India's Edtech players is only going to grow in the coming years.
Upskilling makes a killing
With the shelf-life of skills growing ever shorter by the year, the need to consistently upskill has become of paramount importance. It is not unreasonable to expect that today's worker may shift jobs and possibly even careers several times over his/her working life.
With so many companies shifting to work-from-home models, India has already witnessed a transformation in behaviour with larger numbers of people subscribing to niche courses that better prepare them for, or leverage them within their chosen fields. From content writers to designers, to programmers to marketers, the web is increasingly being viewed as a legitimate domain of learning, and with much more confidence than ever before.
"There has been acceptance of the fact that online degrees and courses are at par with the physical full-time degree courses. The industry has come forward to teach a lot more as part of guest lectures in the fully online degrees in turn to reduce the industry academia skills gap," underlines Bharadwaj of IBM.
Seconds Mohan of upGrad, "Companies are acknowledging the degree certificates acquired by professionals from the learning platforms as larger universities are adopting e-learning and partnering with Edtech platforms. This will assist organizations fill the skill gaps."
According to a Mckinsey global survey 2020, 87 percent of enterprises surveyed said that there was a gap in skills in their workforce. With unemployment figures reaching a record high during the pandemic, upskilling is a necessity for both freshers looking to enter the job market or experienced professionals that want to stay relevant. The pandemic has shown the convenience of upskilling from coaching by experts through the digital platform.
Riding on these trends, the online education market for post K-12 is projected to increase 3.7 times in the next year and create a USD 1.8 billion market. Edtech platforms have showcased the power to transform the pedagogy of graduation and post-graduation culture in India with an increase in the number of learners signing up for online higher education courses.
Further, with the lockdown giving professionals a little extra time on hand, many have opted to invest this time in upskilling themselves to gain that competitive edge versus peers. "We witnessed more active learners on our platform and saw a surge in our B2B business too in the last six months. Over this period, we on-boarded over 50,000 corporate learners across 12 countries, led by India, the US, Thailand, and Oman, and more than doubled our monthly active users. Our B2C learner segment had an overall growth of 170 percent in FY'2021. Today, we stand strong with an overall learner count of over 2 million," discloses Krishna Kumar, Founder & CEO, Simplilearn.
The company has recently come up with its SkillUp initiative, a free learning platform to help individuals get started with free access to over 1,000 hours of learning and tech skilling programs covering over 300 in-demand skills.
Moving forward, it will be important to offer different kind of learning solutions to meet students and professionals requirements—both online and in-person. "Online higher education will also focus more on project and performance based learning, where people are able to learn how to apply skills and be able to demonstrate their experience to employers," highlights Nader Qaimari, Chief Product Officer, ISACA.
Traditional meets Edtech
Even though online education through Edtech platforms existed long before Covid-19, the crisis has been a major catalyst in the learning process of students and educators alike. Edtech is a crucial connection between increased student enrolment and improved learning.
With the onset of the pandemic, most traditional schools and universities had to transition to the online learning space. Although some of the schools and teaching institutions sought their official websites to turn it into an online teaching platform for their students, a massive number of educational institutions approached Edtech platforms for partnership to continue a seamless learning experience for the students.
In fact, educational institutions are enhancing their reach and influence by leveraging the strengths of the Edtech players. "While educational institutions offer the content, Edtech firms have good understanding of how to leverage technology and seamlessly deliver this content. The partnership is win-win for both as well as the students," shares Ranjita Raman, CEO, Jaro Education. The company has partnered with leading institutes in India including the IIMs to offer techno-functional and management courses.
In addition, players like upGrad have enabled over 100+ colleges to streamline their online learning. "We offered them access to our tech platform upGrad Live, to replicate their offline classes, online. Our proprietary platform is more of a digital campus to provide offline institutes a platform that can seamlessly replicate their classes, online. upGrad Live supports multiple assessment formats like coding tests in its inbuilt coding console, quizzes, individual, and group projects. Plagiarism checks and proctored exams allow for fair grading of assignments," explains Mohan.
In addition, Simplilearn has collaborated with some of the top universities, in India and abroad, including Purdue University, California Institute of Technology CTME, University of Massachusetts Amherst, Isenberg School of Management, and IIT Kanpur. "Our bootcamp style learning approach has resulted in 85 percent of learners reporting career benefits including promotions and new jobs after completing the training. With over 1,500 live classes each month, real-world projects, and more, professionals 'learn by doing' at Simplilearn," adds Kumar of Simplilearn.
Indeed, Edtech firms can play a significant role in increasing the gross enrolment ratio in higher education. "With the help of technology, quality, and accessibility, Edtech firms are now able to provide the right set of learning tools for the higher education space. Hence, institutions are launching programs with the help of Edtech firms for various professionals and learners. In the next few years, the online higher education industry will see a major growth as more people enrol for courses to upskill themselves in order to stay relevant in an evolving workplace," predicts Raman.
Power of technology
The education space, today, is experiencing the power of technology like never before. Earlier, the immersion of technology in the education space was considered a futuristic idea, but today, it has become intrinsic in ensuring the learning journey of students is not disrupted because of the pandemic.
While the country is witnessing the unprecedentedly large second wave of Covid-19, the educational institutions are more optimistic in 2021, as they have the benefit of the learning from 2020. "More of the teachers and students have become digitally equipped. They are familiar with virtual classrooms. Importantly, the teaching content – lecture videos, presentations, and books, have moved to the cloud," adds Sudhir Goel, Chief Business Officer, Acer India.
One of the biggest benefits of integrating technology in education has been the increase in accessibility for students. Today, more people than ever before have access to learning material and the latest curriculum. Teachers are using online tools that support collaboration. These online spaces have the potential to allow students to collaborate and extend their learning beyond the physical and temporal limitations posed in a typical classroom experience. These tools also encourage global collaboration by allowing web-based access to the collaborative space in which the learning is taking place.
Cloud and learning management systems (LMS) are the two areas the institutions are very much convinced about. In fact, to deliver classes online, a regular VC tool or a camera in front of a teacher is not enough. One needs to have a robust tech platform that can support the large volume of learners, allow for classroom-like interaction, measure session analytics and offer a seamless experience to both teachers and learners.
As education players strive to expand reach into the Tier-2 and -3 cities and beyond, they are leveraging the cloud computing model. "These locations are still weak in terms of Internet penetration, that's where we need to ensure a lighter mode of mobile App or the website that uses low bandwidth to offer the same learning experience. Therefore, we are completely rebuilding the existing infrastructure in a light cloud computing model so that consumers across remote locations can also experience the same quality of education," describes Mohan.
Further, institutions are designing the overall learning experience through industry experts that make use of graphics, animations, edits, simulations to deliver relevant/accurate information. "We also have a robust LMS which has been built to offer learners several kinds of support services like academic and non-academic career services. We believe storytelling, pedagogy, and engagement are three critical elements that make our learning techniques unique and engaging," details Dr Anuj Kacker, President & Executive Director, Aptech. "Fine tuning of pedagogical approach enabled us to deliver education remotely and without loss of outcome. We are happy to inform that during last year, more than 2000 students were recruited from Aptech centres," he adds.
While many schools and colleges already had computerized systems to keep student data, the pandemic pushed them to make a shift from tech-assisted to tech-first. Education ERP for online admission and fees payment were the first modules to be implemented. This trend to become fully automated will continue with higher adoption of Student Information Systems (SIS), Library Management, and Hostel Management. Moreover, student assessment process is also going online for many.
"During the pandemic, we shifted to remote proctoring for our certification exams. We have moved ahead of the in-person examinations, and will continue to offer online examinations going forward," shares Qaimari.
New-age tech catching attention
The digital age and social media has created an audience with shorter attention spans and one which wants faster and easy to consume content. Also, different learners have different needs and it has become critical for educational institutions and Edtech players to effectively engage and involve them in the online learning environment.
Many of the education players are driving high retention rates through a blend of course content, user engagement on the platform and AI-based technology. "Our approach is to blend the best of AI-driven personalization with a highly immersive and collaborative learning experience. All our programs are designed on the boot camp approach of training, which includes self-learning videos, live classes led and delivered by practitioners and a hands-on lab that provides a real classroom experience to learners. All of this is made possible through our AI-powered learning platform called 'EngageX. It delivers high engagement rates and a unique learning experience to the learners," details Kumar of Simplilearn.
Moreover, many of the Edtech players are using AI to deliver personalised learning experience that is aligned with learner's career aspirations. "We use Data Science, AI and Machine Learning models to understand the kind of job roles available in the market and the skill sets required for these opportunities. We then map it with our learner's past/existing performances to understand and acknowledge the skill gap and build a personalised learning journey for them," underscores Mohan of Upgrad.
Besides AI, gamification through AR/VR is driving engagement and boosting the user experience in e-learning. "AR/VR provides thoroughly immersive learning experiences with gamification of learning. Most importantly, it seizes and retains the attention of students. As students explore the topic or a concept in 360 degrees, their grasping power increases," says Goel.
Kacker adds that while Aptech already had its learning content in digital books format, the company is converting all its study material with AR over the last three years.
Road ahead
For all we shall hope, this difficult time might be restricted to a year or two, but this is when we get an opportunity to re-strategise and create a blanket learning solution that can be deployed in any crisis.
The ongoing education shift has the potential to be a game-changer for generations and the economy for years to come. However, online learning can't be substitute of classroom learning, which provides the benefits of peer-to-peer and faculty interaction, both of which are significant in a student's overall growth. In reality, online education will increasingly become a part of the curriculum rather than a substitute.
"Moving forward, blended learning is going to be mainstream. More schools will be enabled with smart classrooms across private and public. Teaching style also will change as learning goes hybrid and teachers adopt more digital tools to prepare, teach, and evaluate students," shares Goel. In addition, student assessment methodology will see major changes. "Lot of work is going in to make suitable assessment technologies and these will be completely different from the current methodologies," highlights Kacker.
Above all, the education sector needs to focus on the under privileged as they still have less access to devices and e-learning. Dropouts have increased in schools during 2020-21, particularly girl students who got even lesser opportunity for access to mobile devices for online education.