A Window to the Future of Work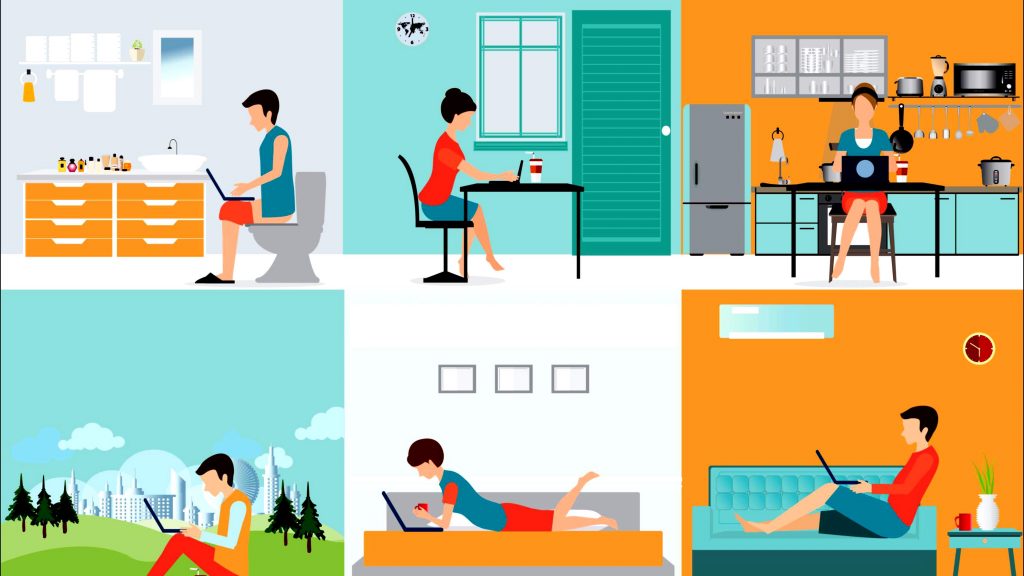 Very little will remain unchanged post Covid-19: business, socioeconomics, work and quite simply, life as we know it. In fact, as organizations strive to build a sustainable work strategy, enabling remote work seamlessly is going to be one of the most critical transformations that companies would want to go through. Let's explore how enterprises are rethinking their work, employee and organizational culture strategies with the changing work environment.
If there's one thing we can all agree on, it's that the world of work is changing quickly. Organizations no longer have the luxury of waiting to see what happens. As the pandemic rages again across the country with daily numbers breaking all-time records, business leaders need to rethink workforce and employee planning, management, performance and experience strategies.
The Covid-19 pandemic is far from over. Indeed, never has independent India faced a crisis of the magnitude that is currently confronting the nation (with the exception of the Partition). India has never witnessed several lakhs of people getting afflicted by a deathly virus everyday or the scale of current sufferings – visible in overflowing hospitals, distressed homes and even in over-worked crematoriums.
In these circumstances and amid rapidly spreading virus, remote work or a hybrid approach seems to be the long-term strategy for organizations. In fact, widespread remote working has been quickly adopted as the norm by organizations. As per a recent research from Capgemini covering over 500 organizations and 5000 employees across the globe, 3/4th of organizations expect 30 percent or more of their employees to be working remotely, and over a quarter expect over 70 percent of their staff to be working remotely.
Organizations expect remote models to work well in functions such as IT, finance, and accounting. Technology companies are far more aggressive in allowing permanent remote work to its employees. Twitter, for example, was the first company to allow its employees to work from home permanently. Similarly, Microsoft allowed its employees to work from home freely for less than 50 percent of their working week, or move to a permanent remote work upon approval from managers.
Productivity amplified
Organizations are reporting productivity gains due to remote working and expect them be sustained post pandemic. "As per recent studies, almost 70 percent of the remote users feel that they are more productive, and 83 percent of the remote workers are satisfied with a bit of flexibility working from home. Employees can manage their time to meet family as well as work commitments, which was not possible while working from office. They are also saving time spent on daily commuting," shares Ravindra Kelkar, Area Vice President, Indian Subcontinent, Citrix Systems.
As per recent Capgemini survey across ten sectors and nine countries, 63 percent of organizations have reported productivity gains in Q3-2020, due to remote working. In India, 65 percent organizations reported productivity gains in Q3-2020, as compared to 28 percent companies which reported decline in productivity. In terms of magnitude, average productivity gains range from 11-22 percent. Employees point to a reduced commute time and flexible work schedule as the key reasons why productivity has increased. For employees who reported a productivity decline, the main reason is feeling more distracted at home than at work. Other predominant reasons include difficulty in remote collaboration with co-workers and in connecting virtually with clients and customers.
From a functional standpoint, IT/Digital functions lead the way with 68 percent organizations reporting gains in productivity, followed by customer service (60 percent) and sales & marketing (59 percent). Digitization and use of technologies such as AI have helped organizations deliver improved productivity in these functions. In terms of magnitude, IT/Digital shows the highest weighted average of productivity gains of 14-31 percent, followed by customer service (12-27 percent).
Moreover, nearly 70 percent of organizations believe that the productivity gains of remote working are sustainable beyond the pandemic. Based on an approximate calculation for productivity levels, the companies project an overall productivity rise of 17 percent in the next two to three years.
Always-on culture pains
Indeed the above figures are quite impressive; however the question is whether organizations effectively managed the shift to remote work? Many people, including professionals, find it hard to switch off from work. While on-premises working allow people to separate work from home life and switch off from work, many remote employees feel the boundaries between personal and work life are blurring. Although technology has given us the power to work from anywhere at any time, it has also given us the 'always-on culture.'
"Not everything is great about remote work. From an employee perspective, there is a feeling to be always-on, which leads to stress and burnout," highlights Kelkar.
The always-on culture is impacting work because it affects workplace culture and it can lead to increased stress levels and burnout, which in turn can dampen productivity and performance.
A recent employee research finds that remote employee burnout is growing; In India, 62 percent of the employees feel disconnected from their organization due to remote working as compared to 56 percent globally. Of the employees who feel disconnected, 41 percent fall in the 31–40 age bracket. Moreover, 58 percent of the employees feel remote working hinders tasks that require internal/external collaboration. Clearly, if organizations fail to support these next generation of leaders, they will not be able to retain them. By gender, burnout is an issue for 56 percent of male respondents and 52 percent of female.
"People are getting disconnected from the purpose of the organization as they're working alone at home, distributed across the geography. This lack of interaction and socialization may disconnect them from the purpose of the organization. We're already seeing that happening; in the last couple of months, we are seeing a lot of people moving jobs which is resulting in organizations losing talent," underscores Dr Vishwanath Joshi, Chief People Officer, Hexaware Technologies.
This raises questions about whether productivity gains from remote working can be sustained.
Moreover, employees feel significant apprehension about long-term remote work, which impacts their engagement, satisfaction and productivity. For example, 56 percent of the employees fear the stresses and demands of being always-on. 54 percent fear that remote work will hamper their career growth in organization and an equal percentage of employees fear that remote work will shrink their network both inside and outside the organization.
Revisiting organizational culture
Organizations need to address the burn-out by nurturing a culture that encourages individuals to switch off from work when they're out of business hours and with family. Not doing so can potentially have negative effects on a company's overall performance.
"Work from home should be balanced with home life, work life and the personal life. Don't make your days 24/7 work from home. Organizations must ensure that people continue the work from office approach of respecting employee's geographical hours," says Charulata Ravi Kumar, Managing Director, Accenture.
Although 78 percent of organizations say that they are focusing on developing a culture that provides more autonomy to employees, 48 percent of employees feel that they are being micro-managed in a remote setup, as per recent studies. Moreover, 59 percent of employees feel that they are surveilled by the remote working and productivity measurement tools deployed by organizations. The issue is very pronounced in India. This is a wakeup call for organizations about designing a future way of working, where employees feel valued and trusted and have the work-life balance needed to sustain productivity gains.
Organizations need to look closely at employee stress management, from making well-being a part of organizational culture. In fact, companies that thrive in this challenging environment will be those that see it as an opportunity to work, lead, and organize differently.
Companies like Hexaware Technologies are differentiating themselves by inducing trust and connect among the employees. "We established forums to share information in a very open and transparent manner. One such forum is Leadership Lantern, which literally means leaders who are with lantern showing the way that can actually help build trust," explains Joshi.
He adds that Hexaware didn't want employees to get disconnected from even the top leaders. "So, we started a forum called Coffee-with-Keech; our CEO is fondly called Keech. This initiative became an amazing forum where a lot of ideas came in. We acted on those ideas to make significant changes in our ways of working. In addition, with a series of fun events with underlying message of engagement, we connected with not just with our employees but also with their families."
Harnath Babu, CIO, KPMG India, emphasizes that leader-employee engagement is crucial for organizational growth. "One of the biggest lessons that we've learnt in last one year is that the leaders have to have constant communication with their employees to keep them motivated and connected. It's important for leaders to stay in constant touch, write blogs, and keep communicating on people talents and their efforts."
In fact, companies that foster a stronger culture of belonging are more likely to reap the benefits of improved performance. "Organisations that establish this kind of inclusive culture are twice as likely to meet or exceed financial targets, likely to be high-performing, likely to be innovative and agile, and more likely to achieve better business outcomes," Joshi says.
He further adds that when people see and appreciate how their individual contributions help to advance goals they support and find meaningful, they're more likely to be engaged, motivated and perform at a high level that impacts overall organisational performance.
Moreover, the independence given to the teams results in higher productivity and almost negligible errors, because every single person starts owning their role in the organization, adds Kumar.
Hence, the right structure should strike the balance between empowerment and control, centralization, and delegation. Leaders can use the opportunity to question existing structures, rethink the effectiveness of operating models, and break down organizational silos and barriers between teams.
Upskilling and investing in employees
With the change in working environment and skill requirements, we are seeing a tremendous uptick in investment in upskilling. Most of the jobs—even manual ones—will become more digitized, and will need to build stronger understanding of automation, analytics, and data. In short, every job in the coming decade will need to incorporate some sort of technology, and the best way for companies to do that is, by offering employees the training they need.
Amazon alone committed USD 700 million for upskilling its employees through 2025 to prepare them for a more digital workplace. The program seeks to impact more than 100,000 of its employees with a unique focus on helping its employees in lesser skilled role gain the skills to grow professionally. Amazon isn't alone in its effort to upskill its workforce. PwC is investing USD 3 billion.
In addition, several other large technology firms including Microsoft, Salesforce, IBM and Google have launched programs for upskilling both internal and external workforces.
"The best way to be prepared for this new world is to become agile and adapt at speed. It is also important to add skills which match us to the current technological landscape," shares Kumar.
According to a Capgemini survey, 70 percent of organizations said that the current Covid crisis will lead them to hire a more fluid workforce in the future, such as freelancers, or independent workers. Nearly 73 percent of executives say that they have started to hire from locations in different time zones.
Another element of talent planning in the new normal is not just finding employees with the right skills, but attracting them to your company with the right types of benefits. These include flexible and shortened workweeks to help manage the increasing stress of working from home with family, kids, and the unending burdens of caregiving. Moving forward, companies will need to offer these types of benefits to attract top employees.
Technology delivering employee experience
The World Economic Forum Future of Jobs Report 2020 says that 84 percent of companies have accelerated the digitalization of work processes. They are realizing that providing employees with adequate tools, technologies, and a robust data infrastructure is key to adapting to a remote operating model.
"We fundamentally feel that moving forward, enabling remote work seamlessly is going to be one of the most critical transformations that companies would want to go through," highlights Kelkar.
However, a recent Capgemini research on 'data-powered' enterprises finds that only 37 percent of business users get access to data at the speed at which they need to make decisions. Moreover, 59 percent say that the organization's data access policies result in them spending more time on seeking approvals than actually doing analysis.
"Complexity has increased for administrators with point products implemented for networking, security and enabling remote work. Troubleshooting of point products is a nightmare in a remote work environment," shares Fenil Shah, Senior Systems Engineer, Citrix Systems. He further adds that users have different experiences while accessing resources from different devices and locations. This further increases the complexity as users have to manoeuvre through devices for various tasks.
In a remote setup, smooth exchange of data and information are even more important for interdisciplinary cooperation. Hence, organizations are upping their remote work game to enable smooth exchange of data and information among the workforce. That includes an influx of investment in collaboration, software-defined networks (SD-Wan) and workspace tools that allow teammates to work together even though they're apart. "Companies are investing in workspace solutions offering virtual channels to access data and applications. These virtual channels can be managed, enabled and disabled remotely through single console. Moreover, while accessing your resources you do not transfer the data outside data centre; it transfers mouse-click, keyboard strokes and screenshots. This enables users to get seamless and unified experience across the devices even in low bandwidth networks," explains Shah.
He adds that AI and ML are taking the employee experience to the next level. "Applications like Twitter shows us the feed which is relevant to us based on AI/ML algorithms. While we organise the work having the application to extract content and notifications in one place, the AI/ML algorithms guide users with the fit cards it display on the front. It's quite similar to how Twitter guides us with the face it shows," details Shah.
"We are delivering enhanced employee experience by offering over 18 different kinds of bots that are used by the employees for self service. Seamless servicing through bots for various day-to-day tasks offers the next level of experience to the employees," adds Babu.
Further, with the explosion of remote work and cloud computing, adopting Zero Trust approach makes more sense. Zero Trust Network Access (ZTNA) ensures that critical assets can only be reached by those offering proof positive that they have the credentials, identity, and need to access them. "The traditional VPN and perimeter security models are not relevant in a remote environment. Hence, companies are looking at ZTNA solutions to secure critical assets. In fact, discerning customers are opting for unified solutions offering web gateway firewall, cloud access security, malware, DLP, sandboxing and so on into a single cloud-delivered solution," adds Kelkar.
Despite the best of technology delivering seamless employee experience, it's becoming clear that humans have a very clear limit as to how many online meetings they can sit through without suffering from stress and fatigue.
A recent Microsoft research has concluded that continuous video calls without breaks can reduce focus and even trigger stress. The study concluded that no breaks in between the meetings lead to a spike in stress levels. This spike is even more noticeable just when the participants shift from one meeting to another. On the contrary, short breaks between the meetings results in more relaxed and focused users.
Indeed, when it comes to talent acquisition and retention, the smartest companies are the ones that find ways to help limit those marathon video-conference meetings to a minimum while also finding meaningful ways for employees to connect and stay engaged.